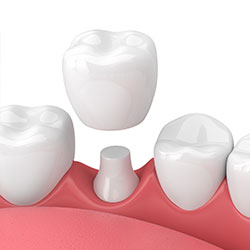 Dental crowns are a supportive way to restore and repair teeth that need larger restorations than a small bonding. Crowns are often done to repair broken, worn, or severely decayed teeth. Crowns cover the entire portion of the tooth above the gumline, and support it with one cohesive, tooth-colored restoration.
Crowns are a permanent way to repair teeth, with a long life span. Here at Total Care Dental, we use the most advanced materials to ensure a strong, functional, and beautiful restoration. We use a variety of materials fom zirconia to gold-- depending on each patient's individual needs.
We place crowns when there is not enough tooth structure to support a filling, or the cavity is very large and the tooth needs more support to hold it together.
Dental crowns are done in two appointments-- the first one being the preparation, where you will leave with a temporary crown on, and the second appointment being the delivery appointment where your permanent crown is bonded on. We send our crowns to the best dental labs using 3D intra-oral scanning technology. This minimizes turnaround time, and patient discomfort associated with traditional impressions. Each crown we make is perfectly crafted for each individual patient.